360 Degrees Hair Studio
Welcome to one of Houston's premier and upscale salons, family owned and operated. 360 Degrees Hair Studio was founded in 2003 by Lisa Moore and NaKeitha Ross on three principles: CUSTOMER SERVICE, EDUCATION, and COMMUNITY. Our mission is to provide a memorable experience for each guest through exceptional service and technical excellence.
It's a Family Affair
 With its chic boutique atmosphere, guests are able to relax and be pampered. 360 Degrees Hair Studio prides itself on the attention and memorable experience given to each guest. Love, laughs, and libations are a staple while being serviced.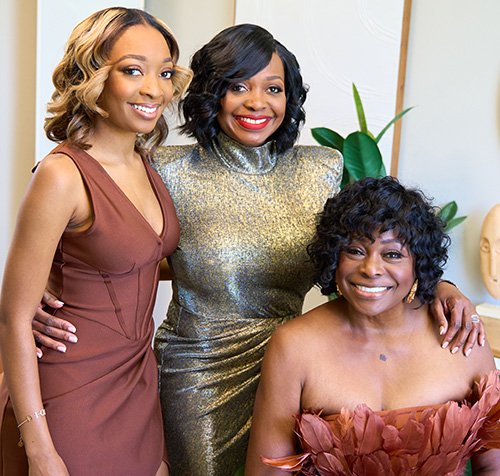 Feed Them Social: Instagram Feed not loaded, please add your Access Token from the Gear Icon Tab.
This is the only stylist I go to. NaKeitha knows what I need before I even ask. She always has my color complementing my complexion and aligned with the newest trends and styles. Everyone at this shop is fun and friendly and I never go away without laughing until my side hurts. I look forward to NaKeitha performing her magic on my wedding day. Thank you for always having me look my best.
I've been consistently going to Jada for the past 3 years and she never disappoints! She makes sure to space her clients appropriately so there are no long wait times and she truly values your time as well as hers! She's also very professional and her space is clean and modern. I have to travel over an hour for my appointment, but it's worth it because of the amazing experience that Jada provides.
My absolute go to salon for all my looks. My hairstylist is NaKeitha Ross and she makes all things Magic Happen! I love the versatility in all my looks. I can go from long to short instantaneously which is vital in my industry. As a boutique owner who shoots content, my look is very important. Ladies, book now, you won't be disappointed. NaKeitha literally can do it all. Check her out!
360 Degrees Hair Studio and Jada are absolutely amazing. Jada is always professional. And I must add very good at her craft. I'm so in love with the new location. It is aesthetically pleasing.
I'm very meticulous when it comes to service. Jada is exceptional, super sweet, and passionate about her job. She's extremely patient and gentle when it comes to my daughter's salon experience. When I needed my makeup done last minute, she delivered. Thank you so much.
Lisa's attention to detail makes her a great beautician. She takes great care of my hair. I always get compliments on how healthy it is. Lisa is aware that life is still happening and takes care of you in a timely manner. Lisa is definitely one of the best.
I've been a client of 360 Degrees Hair Studio for over 20 years and counting. They are extremely knowledgeable, professional, and always changing with the times. My stylist, Lisa Moore, cares about the healthiness of your hair uses great products. When you walk into this beautiful and chic salon, you are always greeted with a smile from everyone and they make you feel right at home. I've referred many people there and my daughter is a client there also. Oh, did I mention it's an one stop shop?! You can get your hair done and your makeup done by the talented Jada Hatton! Please check them out! You will not be disappointed!
I had the pleasure of getting my hair done by NaKeitha and my hair came out so beautifully! She was very sweet and understanding about my concerns for my natural hair. She gave me a silk press with low heat as I asked and my hair still turned out beautifully!
I have been going to NaKeitha for awhile. I love the atmosphere and the family-oriented environment. NaKeitha is a sweet and humble person. And also, a great stylist. She has always maintained my hair whether it's long or short. I am always pleased with my hair.
I have been a client of Lisa's and 360 Degree Hair Studio for over 15 years. I love the personal attention she gives me and her other clients. I never have to tell her what I want; she knows what looks good on me. And she never disappoints. Lisa is all about healthy hair, so I know my hair will be in its best condition. What I love most is that she gets me in and out. No long waits for my service.
Our Address
360 Degrees Hair Salon
3129 Kingsley Dr. #1040
Pearland, Texas 77584
Book here to experience hairdressing at its finest.